(Updated) Governor Palin and Todd attend Billy Graham's 95th birthday celebration (videos and photos)
Posted by Dr. Fay on November 8, 2013
Governor Palin posted the photo above and the comment below on her Facebook page last night after she and Todd attended Reverend Billy Graham's 95th birthday celebration in North Carolina.

What an inspiring night of celebration for a man who has given so much to so many! Be sure to tune into FOX News tonight at 10pm ET to witness a presentation of the most important news any of us will ever hear. It's "My Hope America" with Billy Graham. It's the positive reminder that the answers our world needs are at the foot of the cross. Happy Birthday, Reverend Billy Graham.

Photo courtesy of BGEA
A schedule for additional viewings through November 10 of  "The Cross" from "My Hope America" can be found here.   A video of the entire presentation can now be found here  and  here.
Video retrieved from Billy Graham Evangelistic Association.
Dylan Byers at Politico reported that Governor Palin and Todd sat at Reverend Graham's table during his birthday celebration.
Sitting at the Reverend's table, according to a reliable source: Rupert Murdoch; Donald Trump; J. W. "Bill" Marriott, Jr.; Sarah and Todd Palin; and Greta Van Susteren and her husband, John P. Coale.

Ricky Skaggs, the country and bluegrass singer, will sing "Happy Birthday" to the evangelist.
The Asheville Citizen-Times liveblogged the event and posted photos. (h/tp Michael Sheppard).  During the event, Governor Palin described her family's personal experience with the Graham ministry.
7:58 p.m.: Palin recounts family story

Former Alaska Gov. Sarah Palin said Rev. Billy Graham's message saved her mother "rocked her world, transformed her life."

Her mother led the rest of the family to Christ. They were baptized together in a cold lake in Alaska – one that Rev. Franklin Graham flies over today when he goes to his remote Alaskan retreat.

She said she wants the evangelist to live another 95 years.

"We want to be able to call you Methuselah," she said.
Here is a video of Governor Palin's remarks.
Video retrieved from snowlinen
Michael Sheppard has an excellent compilation of photos from the event.  Twitchy also posted some photos and tweets containing birthday wishes for Reverend Graham.  A photogallery of guests, including the Palins, arriving at the event can be found here.
Here is a brief description of the event by the Associated Press as posted at ABC News.
A crowd of roughly 900 people attended the two-hour party for the North Carolina-born evangelist at an Asheville hotel. Graham's son acknowledged beforehand that it wouldn't be a long party.

"We're going to have a short evening," the Rev. Franklin Graham said. "Daddy's 95."

The elder Graham was flanked by real estate mogul Donald Trump and former vice presidential candidate Sarah Palin. Franklin Graham said prior to the event that former President Bill Clinton, who had been listed as one of the guests, couldn't attend.

"Billy Graham, we need you around another 95 years," Palin said. "We need Billy Graham's message to be heard, I think, today more than ever."

The event began with the debut of a new video of Billy Graham from his home as part of a nationwide religious outreach called "My Hope."

The video features clips of Graham filmed this year at his home in Montreat. Also included are audio excerpts of his early days, when he took his crusades around the nation and the world.

The elder Graham has been hospitalized for a number of health-related issues in the past few years and now uses a wheelchair. While he wasn't scheduled to make a speech, he did offer thanks to Cliff Barrows, who led the choirs that sang at Billy Graham crusades for decades. Barrows returned the favor.

"Happy Birthday, dear Bill. I thank God for every remembrance of you," Barrows said.

Fox News host Greta Van Susteren directed the crowd to sing "Happy Birthday" twice to Graham. Among those on the stage singing to Graham were country singer Ricky Scaggs and "Today" host Kathie Lee Gifford.

Each table had a cupcake with a candle in it, and a medallion noting the birthday celebration on it.
Here are some of the photos from the event that have been posted on Twitter and elsewhere.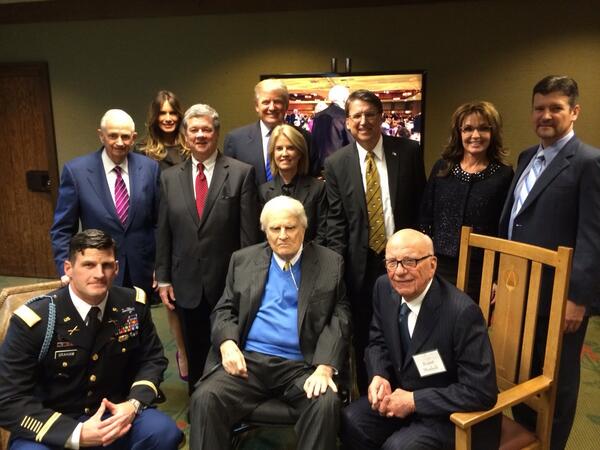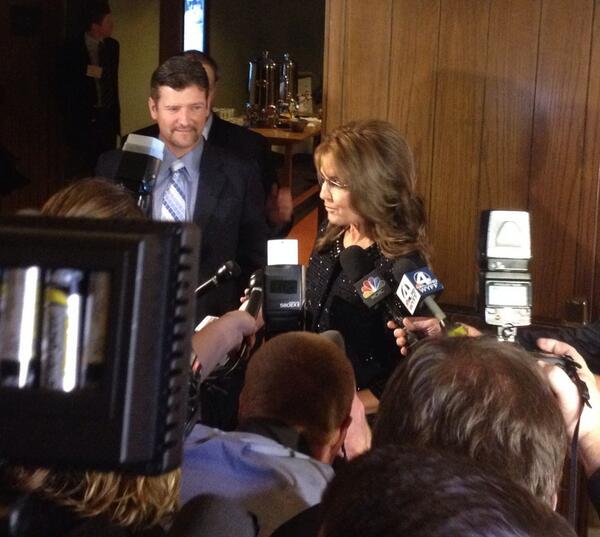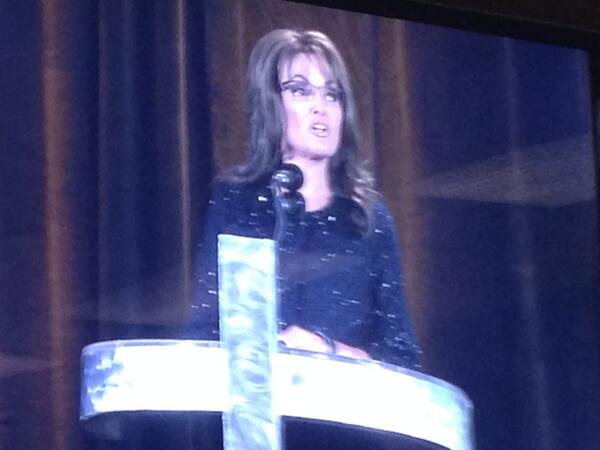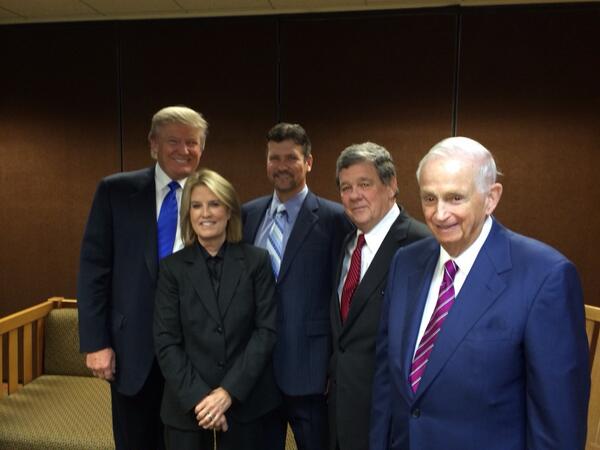 One Response to "(Updated) Governor Palin and Todd attend Billy Graham's 95th birthday celebration (videos and photos)"
November 8, 2013 at 9:45 AM

Reblogged this on Reality Check.